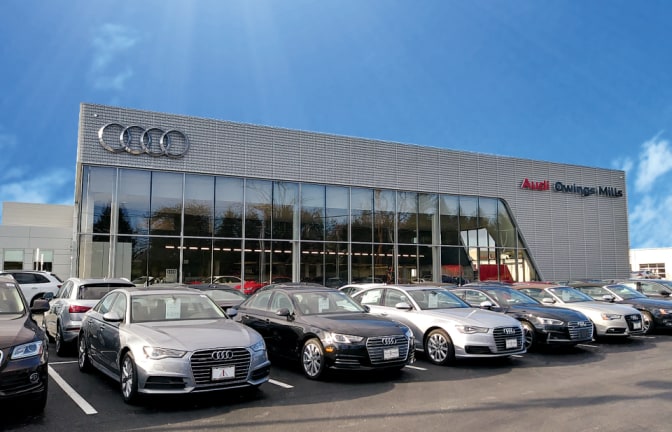 Audi Owings Mills is a brand-new Audi dealership in Owings Mills, MD, with an outstanding team of professionals who are continuously "Driven to Excellence." What exactly does this mean? Well, we're a part of the Priority 1 Automotive Group, a family-owned and -operated business that brings Maryland drivers the very best performance and luxury brands in the market. At our Audi dealership near Baltimore, we serve clients who have a passion for driving that matches our passion for the product, and we'll go above and beyond to ensure that our clients are fully satisfied. Our team is comprised of industry experts who know the ins and outs of each Audi model we sell, and they'll happily point you toward the right one for your lifestyle.
When you visit our Audi dealership in Owings Mills, MD, you'll have the chance to explore our inventory of new and pre-owned Audi models to see which you like best. We have a vast selection of cars encompassing all your old favorite models, as well as new Audi models you'll be excited to discover. Take a look at the new Audi A3 or A6 and see why drivers love the open road so much. Pack the family into an Audi Q5 and see how much space it offers. Or, if you want a sports car that boasts powerful performance, check out the new Audi TT. We have plenty of options to pick from, as well as a variety of used Audi models, too. Our Certified Pre-Owned Audi models are all still in excellent condition and we have plenty of used cars from other top makes. Pick your favorite and allow our Audi finance team to help you find a way to pay for it.
If you're already an Audi owner, we're an excellent resource for any and all questions you might have about your vehicle. Just bring your car or SUV to our Audi service center and our expert team will take a peek under the hood. They'll diagnose the issue and perform repairs as needed. If you simply need routine Audi maintenance, that's not a problem, either. We can take care of oil changes, tire rotations, alignments and other basic services. Plus, if you've been in an accident and require collision repairs, we can make your car look and run like new.
Audi Owings Mills is your one-stop shop in Maryland for all things Audi. Pay us a visit at 9804 Reisterstown Road in Owings Mills, MD, and we'll help you with all your automotive needs. Come see for yourself why our team says they're "Driven to Excellence!"
Audi Owings Mills is a proud supporter of: